Greater HCMC[1] Ready-built Landed Property (RBL) 4Q21
Limited supply continues in HCMC, but booms in other provinces
Limited supply continues in HCMC, but booms in other provinces
The new launch[3] of the Southern area reached nearly 2,100 units in 4Q21, with only 223 units (mostly small-scale projects) launched in HCMC. Meanwhile, booming supply was recorded in other four satellite provinces, at over 1,800 units, nearly 9 times the HCMC's figure, including: over 1,000 units in Binh Duong, nearly 500 units in Dong Nai, 250 units in BR-VT and nearly 100 units in Long An. The resumption of construction activities has enabled many developers to complete the foundation, a critical milestone for developers to obtain sale permits for their projects, thus resulting in a surge in official launches in this quarter.

Strong investment sentiment recorded in Binh Duong and Dong Nai
The total take-up of Greater HCMC achieved nearly 2,250 units, which is significant compared to just 224 units in the previous quarter. In tandem with supply, HCMC recorded 214 units sold, mostly in Tan Phu, Binh Tan and District 12. Four provinces had a take-up of over 2,030 units, mostly focused on compound and large-scale integrated projects in Binh Duong and Dong Nai. Investment sentiment was heightened immediately after the social distancing measures were lifted, thanks to the government's plan to focus on infrastructure development in Southern provinces. Many face-to-face launching events and sales activities were opened again, leading to high sales figures.
Primary prices stable q-o-q
In 4Q21, the RBL average primary price in Greater HCMC was recorded at USD 2,955 per sqm land, increasing 28.8% y-o-y and 1.4% q-o-q. Many developers in large-scale integrated projects in Dong Nai and Long An were confident to raise their selling price by 5-10% q-o-q, as they were selling very special and limited product types, such as riverside grand villa, or large western-style design shophouses, facing a dynamic commercial square and marina harbor, while offering attractive sales programmes in response to post-Covid situation.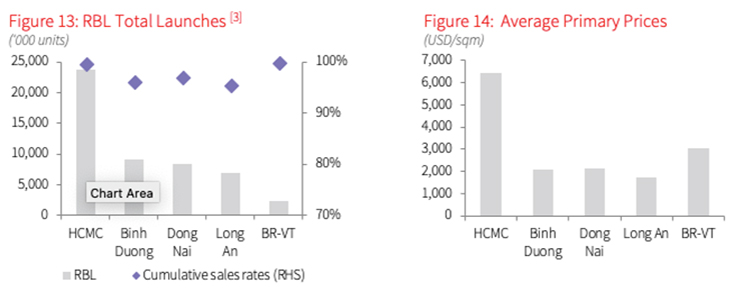 Outlook: Infrastructure and population flow will drive RBL further
Although HCMC has limited land banks left for development, the legal issues with RBL projects in HCMC are expected to be gradually resolved in 2022, leading to the future supply of HCMC at about 1,500 -2,000 units in 2022. Besides, about 11,400 units are expected to be launched in 2022 in four neighbouring provinces. The recently announced plan to focus on infrastructure investment in Greater HCMC Area, particularly the HCMC Ring Road No.3, Ring Road No.4 system, HCMC – Moc Bai Highway, Bien Hoa – Vung Tau Highway, will certainly enhance market sentiment. This factor, together with the urban population expanding, will drive RBL supply away from inner HCMC other satellite provinces. The primary price in those areas will thus keep increasing.

Note:
[1] Greater HCMC area consists of HCMC, Binh Duong, Dong Nai, Ba Ria – Vung Tau and Long An markets.
[2] Prices exclude VAT and sinking fund/maintenance fee. Price per sqm land = total unit value / size of the land plot on which the property is built.
[3] Official launch: Projects are considered as officially launched when the Sale Purchase Agreements are signed, typically upon infrastructure completion.
Source: JLL Research