Decarbonization - Global trend for sustainable real estate development
According to World Bank, Vietnam is also a very vulnerable nation to climate change impacts; therefore, the urgency of decarbonizing is utmost important.
World
The International Panel on Climate Change (IPPC) report was released in April revealed that emissions are at the highest level in human history. Sectors include buildings, transport, industry, and energy system are the most important sectors that transition the world's emission in the next decades. These sectors are the backbones of any city and country' economy. And buildings, commercial real estate always interact with these sectors.
There have been more than 30 cities in the world announced their net zero commitments and mandated different policies, incentive schemes and regulations in order to transform their entire city and economy toward this net zero journey. According to JLL Decarbonization Cities and Real Estate global report, in Asia, there are Hongkong, Singapore, Shanghai, Seoul and Tokyo.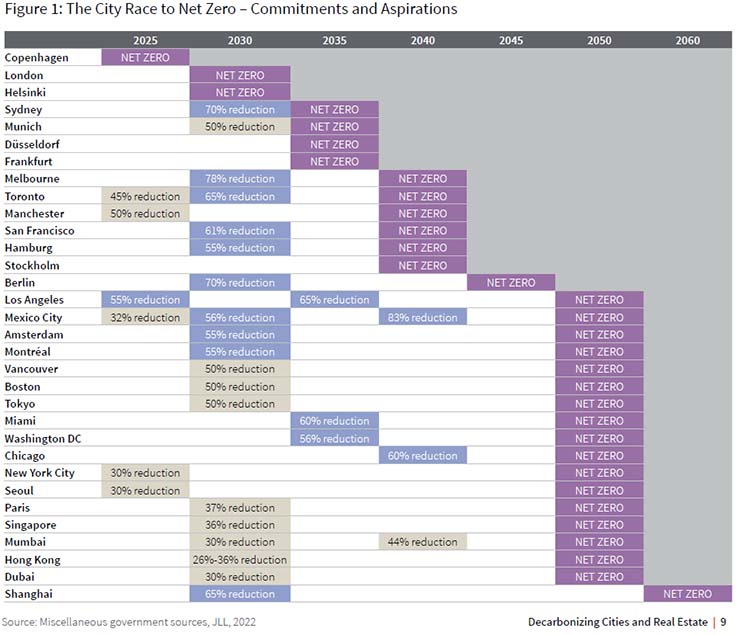 This report was issued for the occasion of the World Economic Forum Annual Meeting Davos 2022. It summarizes the state of major cities in the world making efforts to decarbonize their cities. Also, at this meeting, the Deputy Prime Minister Le Minh Khai shared Vietnam's viewpoints and developments orientations, in which sustainable developments are the foundations of the economy. 

Asia and Vietnam
The five pioneering Asian cities have made their commitments publicly to achieve net zero carbon, most ambitious are Shanghai – to have 65% of carbon reduction by 2030, follow by Tokyo of 50% carbon reduction by 2030 and become net zero carbon city in 2050. One key driver of these commitments is the vulnerability of these cities to climate change. According to World Bank, Vietnam is also a very vulnerable nation to climate change impacts; therefore, the urgency of decarbonizing is utmost important.

Cop26 11/2021
On 1/11/2021, Vietnam's Prime Minister Pham Minh Chinh had a noteworthy speech at The UN Climate Change Conference (COP26) in which he depicted about Vietnam vigorous commitment upon combating climate change, he announced that Vietnam would construct and implement strategic schemes to mitigate greenhouse gas emissions in pursuance of Net Zero Emission by 2050. Vietnam aims to reduce GHG emissions by 43,5% by 2030 compared to BAU scenario and achieve 8-10% energy saving rate over total energy consumption for the period of 2025-2030.
This is the first time Vietnam announced globally the ambitious commitment on the net zero carbon journey. Since then, the government has made progress in different areas, specifically on issuing Decree 06/2022: on mitigation of greenhouse gas emission and protection of ozone layer on 07 Jan 2022 (Nghị định 06: quy định giảm nhẹ phát thải khí nhà kính và bảo vệ tầng ô-dôn) and other related Decisions.

Before this world scale announcement, the country has had several regulatory related activities that addressed the building sector, for example the Decree 280/QĐ-TTg on Approval for National program for thrifty and efficient use of energy for the period of 2019-2030, in which targeted that we should achieve 150 green certified constructions by 2030. As of 2022, we have had more 200 green certified constructions, majority of them are in residential (44%), industrial (31%) and office buildings (15%). This shows that the private sector has already driving this trend of greening buildings and we exceeded the plan of the government. However, in comparing with average more than 500 non-public new buildings a year, there are so much more that the real estate sector can have an impact in decarbonizing our cities and country.

Retrofitting
Decarbonization does not only lie within new developments, new buildings, but also in existing buildings. 2022 and this decade will witness a very interesting and important time horizon for major commercial real estate assets that were completed before 2010. These properties will have been more than 10 years in operation, which means there will be questions whether they are energy efficient and if it is time to retrofit and enhance their buildings. As building accounts for 60% of carbon emissions in cities (in 32 surveyed cities), retrofitting existing buildings are as crucial as building new green certified buildings, because these buildings will probably stay until the target year 2050. And since they have been under operation, their carbon emission is immediate, not only projected as new developments.
As JLL's global report on Decarbonizing Cities and Real Estate pointed out, cities are in different stages of the regulatory and market-based instruments, some made reporting of building's emissions mandatory, some are just voluntary. For Vietnam's biggest cities, Ho Chi Minh City and Hanoi have a lot to do to catch up with the neighboring cities in the region. To achieve the result in becoming net zero, the urgency may force different cities into taking the jump from incentivizing to penalizing buildings, developments that do not meet with the standards or national plan.
Renewable energy
Energy transition in Vietnam has made major developments in the last three years, shifting to more renewable resources than traditionally. In the new Power Development Plan 8, the government has determined to structure more renewables such as wind and solar in the planning of power from 2021 – 2030, with the vision toward 2045. Many industrial buildings have installed solar panels on their roof to reduce the consumption of traditional fossil fuel energy. However, in other sectors such as office, retail and residential, renewable energy set up are limited; these sectors are more likely to be in developed cities such as Ho Chi Minh City, Hanoi, and Da Nang. Greening the roof with solar panels is another key activity on decarbonizing for buildings in cities.
Circularity and partnerships
Circularity and circular economy have been spoken in many national news starting in 2020. There have also been several initiatives, programs aiming to develop circular economy. Moreover, international efforts from World Bank, GIZ and Western nations are promoting circularity in the sustainable development for Vietnam. Some developers, notably in industrial sector, have pivoted and integrating circularity in their development, especially since the Decree 82/2018/ND – CP was issued. The Decree allows industrial developments to have residential and other functions in the industrial zone and with this, the waste of some businesses can be the input materials of other sector within the zone. This requires trust and partnerships from different stakeholders, between the authority, companies, civil society organizations and institutions. Additionally, to build circular economy and decarbonize the built environment, partnerships between the real estate companies and their clients are key, the partnership can start from the smallest thing such as sharing the data of emission, or to monetary term such as green lease. These partnerships will aid the decarbonization of each building, and potentially to cities and country level.
JLL Energy and Sustainability Services is set up to help companies, buildings to decarbonize their operations and going toward a net zero carbon future.