Hanoi Retail Market 2Q2022
The market recorded Vincom Mega Mall Smart City, only new supply in 2Q22
After many delays due to the complicated development of the pandemic, Vincom Mega Mall Smart City officially launched in 2Q22 and supplied the City Fringe market with 48,621 sqm NLA. Thanks to the impressive design with many modern utilities, Vincom Mega Mall Smart City achieved an occupancy rate of more than 90% on its opening day. The total supply of the Hanoi Retail market reached 1.1 million sqm NLA, mainly in the City-Fringe area.

Net absorption rate increases across the city
Thanks to the new supply, the Hanoi Retail market in 2Q22 recorded net absorption of 45,534 sqm across the city – the highest since the Covid-19 outbreak in early 2020. In general, the vacancy rate in Hanoi Prime Malls is currently about 10.4%, mainly in old shopping malls or malls that are renovating. Thanks to the rising purchasing power and the demand for entertainment after the epidemic, play zones and stores have reopened. The market recorded several new transactions, mostly from foreign retailers. A notable deal is a 1,700 m2 store from MUJI at AEON Mall Ha Dong. Besides, Digibox – an emerging retailer from Indonesia also attracted attention when opening a series of stores at Vincom Centre Ba Trieu, Vincom Centre Nguyen Chi Thanh and AEON Mall Long Bien.
Rents increased slightly in the non-CBD area and stabilised in the CBD area
In general, net effective rent in City Centre stabilised at USD 63.6/sqm/month and in City Fringe increased slightly by 1.9% q-o-q to USD 29.3/sqm/month in 2Q22. Net effective rent in Prime Malls across the market increased slightly by 0.4% y-o-y, mainly due to higher-than-average asking rent at Vincom Mega Mall Smart City and an adjusted price increase due to inflation in some shopping malls with good occupancy rates and less impact from the pandemic. However, landlords remain flexible in considering better rental policies based on the product categories, rental area and lease term.

Outlook: Green and cultural malls to be the future of the retail market

Until 2025, the retail market is expected to welcome an additional of 230,000 sqm, with one project promising to become the largest mall in City Centre. Regarding market performance, the occupancy rate in existing retail prime malls is likely to increase as a number of malls will finish the renovation in 2022. High inflation rates, on the other hand, can affect consumers' purchasing power and reduce retailers' profit margins. Therefore, to attract more people, shopping centres will aim to adopt the shopping mall concept, suitable for all ages, combining many green areas and cultural elements to create a new shopping experience.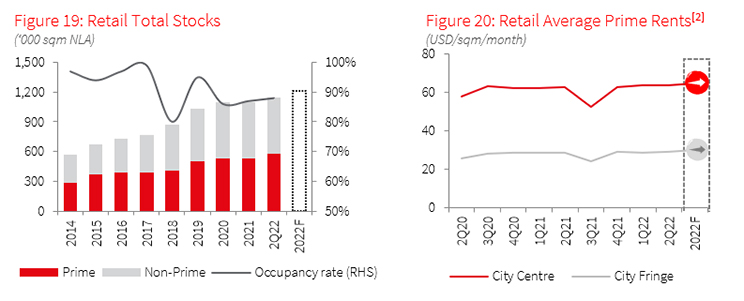 Note:
[1] Prime rents refer to average net effective rent of Prime Mall across the city, excluding VAT and service charges. Please refer to terminology for definition of Prime Malls
[2] City Centre refers to Hoan Kiem, a part of Ba Dinh and Hai Ba Trung District. City Fringe refers to the rest of the city.
Source: JLL Research
Notes:
As the market develops, we regularly review and update our classification and grading system as well as the methodology to ensure the relevance and focus of our research on the actual market situation.
Since 1Q21, in this report:
- Supply indicators to cover malls classified as Community Centre, Regional Shopping Centre and Super Regional Centre.
- Performance indicators to cover Prime retail properties only (a subset of Supply basket above). This is one of the most highly sought-after property types on the market.
Subsequently, this revision might result in some changes in historical data.
Please refer to Terminology for a detailed definition of all the above new terms.