Hanoi Office Market 2Q2022
The market recorded no new Grade A&B supply 
In 2Q22, the Hanoi Office market recorded no new supply from Grade A&B buildings and only one new Grade C project - Hateco Laroma building in Dong Da District with about 7,100 sqm NLA. At the end of this quarter, the total supply of Grade A&B office space in Hanoi was stable at 2.3 million sqm NLA.

Demand shows a strong recovery after the pandemic
Hanoi Grade A&B office market posted positive net absorption of about 17,000 sqm NLA in 2Q22. In particular, the Grade A segment showed strong attraction when recorded net absorption of more than 10,000 sqm, mainly thanks to transactions at some Grade A office buildings in Ba Dinh and Cau Giay districts. These large transactions came from tenants in the banking and e-commerce sectors that had the fastest recovery after the Covid-19 pandemic. 
Grade B office was also extremely vibrant, with many new lease transactions. The net absorption of Grade B buildings reached 6,743 sqm NLA in both CBD and non-CBD areas. However, market showed a mixed picture with the most recently-built Grade B Office having a net absorption of above 1,000 sqm NLA while some older buildings having no new transactions or even recording negative net absorption. This demonstrates that tenants tend to keep an eye for more modern and better utilities in Grade B buildings.
Net effective rent increased sharply in the Grade A segment
Net asking rents increased in Grade A and Grade B buildings, especially in the Grade A segment. In 2Q22, Grade A net effective rent reached USD 28.0/sqm/month*, an increase of 4.2% q-o-q. This spike is due to the sharp increase in asking rents at Capital Place – the best prime Grade A building in Hanoi. 
As the market recovered, some Grade B office buildings, especially new ones in the non-CBD area, also increased their rental price. Grade B average rent increased slightly by 0.4% q-o-q, reaching USD 15.0/sqm/month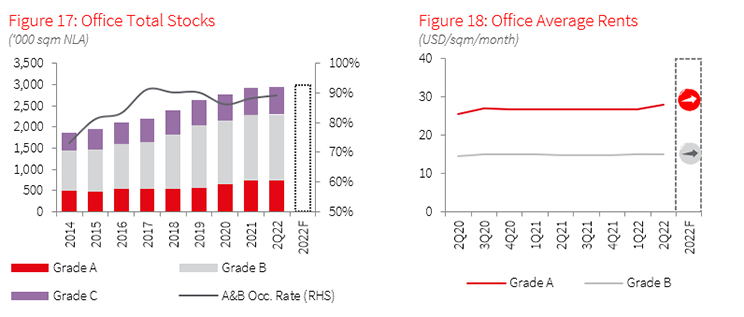 Outlook: Green-certified buildings will become increasingly popular
Considering the ongoing construction progress, the Hanoi office market will welcome around 42,247 sqm NLA from two Grade A projects and 143,056 sqm NLA from six Grade B projects in 2022. Thanks to the high-quality supply, the average net effective rent is expected to increase by 3-5% in 2022. In the future, Grade B+ buildings with green certificates will attract developers and tenants. Certificates such as LEED and LOTUS will be a factor that will greatly affect tenants' leasing decisions, especially international tenants
Note:
[1] Rents refer to average net rent of the Grade A and B office markets, excluding VAT and service charges.|
[2] CBD area consists of Hoan Kiem (core CBD), Dong Da, Ba Dinh and Hai Ba Trung. Non-CBD area refers to the rest of the city.
Source: JLL ResearchNote:
(*) Techno Park Tower will be excluded from Grade A performance basket due to its specific location and targeted tenants.