HCMC Apartment for Sale Market 1Q2022
Record-high trend continued in selling price
Limited supply after the Lunar New Year holiday
The first quarter is usually an off-peak quarter. Prolong Lunar New Year holiday delayed new launching events. New supply [2] dropped significantly to 1,518 units, down by 76.6% q-o-q, of which Citi Grand in District 2 was the only new project launched in 1Q22 with 666 units. The remaining new supply came from ongoing projects, concentrating in the Upper High-end segment such as Grand Marina and Thao Dien Green.
Idle capital investors lead market demand
Demand moved in tandem with new supply and achieved 1,507 new sold units in 1Q22, reducing 74.1% q-o-q. The market diversified in-demand profiles between investors and owner-occupiers because of the tighten loan policy of the State Bank of Vietnam targeting the real estate market. As strict regulation on housing loans impacts all buyers, developers innovate attractive discount programmes to catch the attention of idle capital buyers.
Record-high trend continued in selling price
The HCMC market recorded price growth at a CARG of about 11.8% per year amid supply leading demand over the last ten years. A robust improvement in supply quality in the face of increasingly exacting buyer requirements has resulted in an increase in the primary market with USD 2,927 per sqm. Meanwhile, reducing supply contributed to the rising trend in selling prices. Specifically, residential units in Thu Thiem and the nearby region enriched attention from Thu Thiem's bidding auction in December 2021. The outcome was an increase of 3.0% q-o-q in selling prices, higher than the average growth of 2.5% in the last quarter.

However, developers applied various discount programmes and promotion policies to maintain buyers' attention during strong growth in primary prices.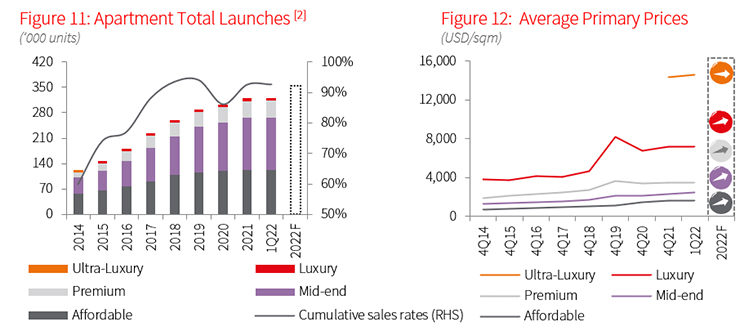 Outlook: Sustainable lifestyles lead demand
Total future launches in 2022 are expected to reach 32,000 apartment units, equaling the combined number of 2020 and 2021, of which Thu Duc city obtained 55%. However, future supply is expanding to the East-West corridor. Hotspot areas in Binh Chanh, Binh Tan and Tan Phu expect to achieve 22% of the total supply this year.
Investment sentiment enriched slightly when buyers sought a secured portfolio in real estate to avoid the inflation risk but was hampered by the prevailing credit restrictions in real estate market. A sustainable lifestyle is predicted to lead the future demand amid buyers' attention toward the living quality post-pandemic. Selling prices continued growth path but at a slow speed compared with 2020-21 to match with abundant future supply.
Note:

Prices exclude VAT and sinking fund/maintenance fee.


Official launch: Projects are considered as officially launched when the Sale Purchase Agreements are signed, typically upon foundation completion.


The loan approved by owner's collateral and other conditions.
Source: JLL Research