HCMC Office Market 1Q2022
The demand is slow due to the prolonged effects of the pandemic
Continuously limited new supply in 1Q22
Only one Grade C building with 5,600 sqm was completed in 1Q22. However, it operates as the investor's headquarters, not for rent. Grade A & B office sectors did not record any new supply, remained at 1.67 million sqm, of which 167,000 sqm is vacant and ready for rent, mostly from Grade B buildings.
The trend of renovating current buildings to increase the leasing areas and upgrade to higher grade becomes increasingly common in the context of limited land.
The demand is slow due to the prolonged effects of the pandemic
The Grade A vacancy space slightly rose, around 1,288 sqm, mostly from long-time operated buildings as existing tenants reduced rental area. In contrast, the Grade B market recorded many significant transactions in new buildings, helped improve net absorption for both Grade A & B office markets, and made it rise to a positive level, around 1,142 sqm, but still significantly dropped compared with the previous quarter. Enterprises in Information Technology and Manufacturing with foreign-invested capital continuously led the demand in this quarter.
However, existing Grade B buildings are relatively cautious in their leasing strategy due to challenges of demand decline in 1Q22 - a consequence of the prolonged effects of the pandemic.
Rental fees stabilised by year and by quarter
Although facing a decline in demand, landlords generally kept the rental prices stable, thanks to a positive vision for the nine months left of 2022. The average rent fee stabilised at USD 30.7 sqm/month, gradually rising by 0.3% y-o-y and 0.2% q-o-q.

New buildings with pressure to fill up vacant areas commonly attract tenants with many special offers. Agreements happened quite flexibly with supporting conditions including but not limited to the rental price term case by case.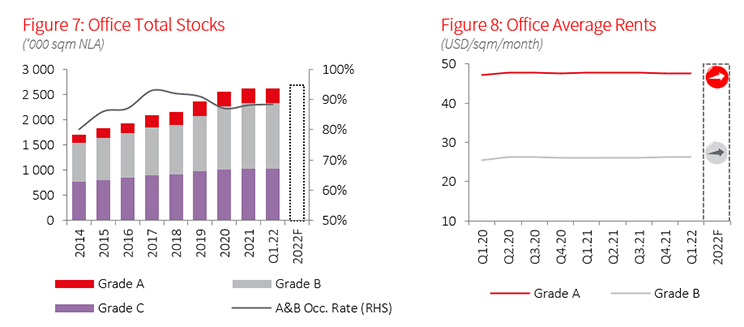 Outlook: Positive sentiment on the remaining nine months
In the rest of the year, three Grade B buildings are expected to join the market with nearly 70,000 sqm for lease, contributing 4% to the total stock. Le Duan boulevard is ready to welcome a new Grade A building for owner-occupied as their headquarters, but not for rent.
Generally, the office market in 2022 is predicted to be quite optimistic, with stable or steadily increasing rent due to limited supply. By the end of 2022, the average rent of the entire market is expected to grow more than 30 percentage points, higher than the growth of the 2020-21 period.
Note:

Rents refer to average net rent of the Grade A and B office markets, excluding VAT and service charges.
Source: JLL Research