HCMC Office Market 2Q2022
Limited new supply across segments
There was no new supply in Grade A offices in 2Q22. The occupancy was maintained at a high rate of more than 90%. Meanwhile, one new Grade B ( for owner-occupied) and three new Grade C buildings were completed in 2Q22, adding about 23,387 sqm NLA to the total supply.

Strong demand recovers, particularly in the Grade B segment
Net absorption in Grade A&B offices in 2Q22 totaled 17,764 sqm, increased sharply from 1,142 sqm recorded last quarter. While overall Grade A net absorption improved slightly and mainly happened in buildings with notable vacant spaces, Grade B buildings experienced a surge in newly large leasing deals. These transactions came from the office market's main demand drivers, such as real estate, finance, banking, and technology, which recovered quickly after the pandemic.
Furthermore, due to limited supply and increasing occupancy rates and rents in CBD, combined with the impact of the pandemic on enterprises' financial performance, many companies tend to relocate to the non-CBD area, reflected by positive net absorption of totalling 12,144 sqm NLA witnessed in Grade B buildings in the non-CBD area.
Rents remained stable q-o-q
The average rent in Grade A&B remained resilient at USD 30.7 /m2/month, stable at 0.1% q-o-q and 0.4% y-o-y. To push the leasing demand after the pandemic outbreak, landlords are keeping rents stable amid a limited new supply. Some buildings still offer numerous incentive programmes, including promotions or discounts on a case-by-case basis. Only a few buildings adjusted their rents increasing slightly, backed by gradually improving demand post-pandemic and limited space availability.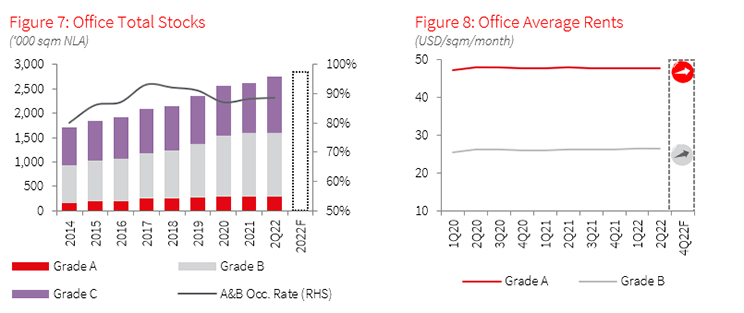 Outlook: Relocation trends to non-CBD area
Future supply is set to welcome five Grade B projects in non-CBD in 2H22, contributing about 78,000 sqm NLA to the market. Remarkably, the construction qualities and amenities of Grade B buildings in the non-CBD area are progressively improving, even outperforming older buildings in the same segment in the CBD. In addition, when the pandemic erupted, many tenants transitioned to digital platforms to support the Work-from-home model , and as infrastructure system continuously improves, CBD location is no longer a prerequisite for leasing demand. Subsequently, the ongoing decentralisation trend is expected to bolster.
The average rent in both segments is forecasted to increase mildly until during the remainder of the year in the context of the country's broad-based recovery and the trend of enhancing building quality.
Note:
[1] Rents refer to average net rent of the Grade A and B office markets, excluding VAT and service charges.
Source: JLL Research