Hanoi Apartment for Sale Market 2Q2022
Mid-end segment leads the new supply in the first half of 2022 
Given that the number of new projects is still limited due to legal procedure and capital raising abilities, new supply in 2Q22 mainly came from existing projects that are components of large-scale townships, with about 4,396 units officially launched, equivalent to a increase of 112.7% y-o-y.

Mid-end segment was still the main supply driver that accounted for 61% of the total new supply. Notable Mid-end projects in the quarter include Vinhomes Smart City – The Metroline (700 units), Imperia Smart City – The Mirae Park (820 units). Despite new supply coming from Premium to Ultra Luxury limited to only 1,100 units officially opened for sale, JLL still recorded positive signals from these markets with many projects soft launched, such as Heritage Westlake (193 units) and Hoang Thanh Pearl (334 units). 
Good absorption was mainly recorded in large-scale townships
Thanks to healthy market demand, the volume of apartment transactions in 2Q22 reached about 3,800 units, increasing 40% compared to the same quarter last year. Meanwhile, projects located in large-scale townships continued to register high net absorption and constituted a large proportion of quarterly sales.
Regarding market segments, Mid-end maintained the lead in the market, with the absorption rate reaching 90% of the total primary supply. Particularly, apartments at selling prices ranging from USD 1,600 to USD 2,300 per sqm, having units designed with a clear view of greenery, have become the most sought-after products.
Primary selling prices surge on a yearly basis
Similar to HCM market, Hanoi apartment market continued to be in the rising price stage of the cycle with new price levels being set due to the supply-demand gap. Besides, the escalating construction cost and the lack of supply in Affordable segment caused the average primary price in the whole market to increase by 173% annually, reaching USD 1,830 per sqm this quarter. The Mid-end was the segment that observed the most projects with increasing prices, fluctuating in a range of 10-15% quarterly on a project basis.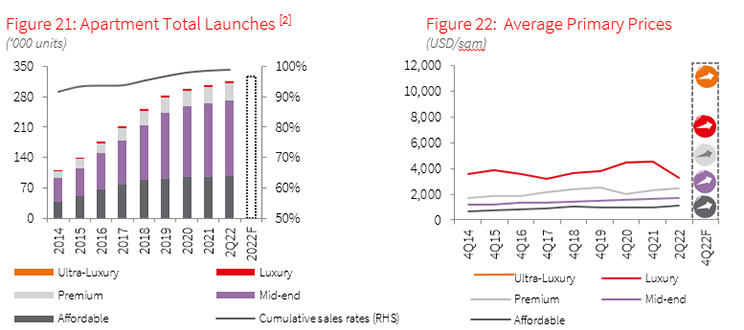 Outlook: Many high-end projects will emerge in the market
Given that the government strictly controls the issuance of construction permits for new projects and that many investors have faced difficulties in generating capital, new supply across the market is expected to rise in the 2H22, but mainly from the next stages of some large-scale townships.
The shortage of new Affordable supply, combined with the entry of many Luxury and Ultra-Luxury segment projects such as Heritage West Lake (Tay Ho) and T&T Capella (Dong Da), will continue to drive up average primary selling price levels.
Note:
[1] Prices exclude VAT and sinking fund/maintenance fee.
[2] Official launch: Projects are considered as officially launched when the Sale Purchase Agreements are signed, typically uponfoundation completion.
Source: JLL Research