Hanoi Office Market 4Q21
Rental price remained stable
A large contribution of new supply in the Eastern market
After three quiet quarters due to impacts of Covid-19, the Hanoi office market has welcomed a large supply of nearly 92,000 sqm(*) from the Grade A project - Techno Park Tower in Gia Lam District. The year 2021 drew to an end with the total Grade A&B supply of approximately 2.3 million sqm.
The new supply raised the Grade A&B vacancy rate to 16.3%, up 4.0% q-o-q and up 2.2% y-o-y. Excluding the new completion, the Hanoi office market slightly recovered with a vacancy rate of 11.9%, a mild decrease of 0.3% q-o-q, and 2.1% y-o-y.
Demand mainly focused on Grade B segment
Not including the new project (**), Hanoi office market recorded a positive net absorption rate of about 5,078 sqm in Q421, mainly thanks to transactions in the Grade B segment. Under the severe impact of the pandemic and the increasing new cases, some Grade A businesses have been forced to scale down their offices to minimise costs. Therefore, the occupancy rate of this segment was slightly down by 0.1% q-o-q and up 1.7% y-o-y. The increase was continuously caused by big deals in Grade A projects in 2021 with key industries such as banking, IT and manufacturing.


Rental price remained stable
Overall, the asking rental held steady or had a little downtrend in Grade A&B projects. However, the appearance of the new Grade A project in the suburb with the favourable price dragged the average net rental price of this segment mildly down. Excluding the new project, Grade A segment held constant at USD 26.8/m2/month (***) and Grade B at USD 14.8/m2/month. However, the slowing annual rent growth due to the impact of Covid-19 is a good opportunity for tenants to consider resigning office lease contracts.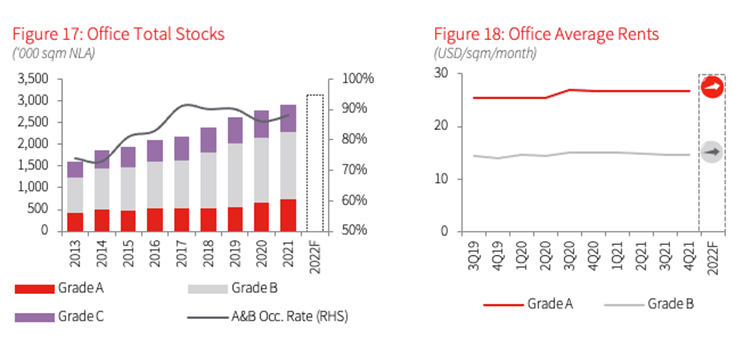 Outlook: Huge supply enters the market in 2022
Based on the construction progress and JLL estimation, Hanoi office market will welcome 141,546 sqm from 5 Grade B projects in 2022, 56% of which are situated in the West.

New supply with high quality is expected to slightly raise the rental price. In addition, tenants of industries with bright growth such as technology and e-commerce are predicted to continue being ahead of the demand. 
Note:
[1] Rents refer to average net rent of the Grade A and B office markets, excluding VAT and service charges.
[2] CBD area consists of Hoan Kiem (core CBD), Dong Da, Ba Dinh and Hai Ba Trung. Non-CBD area refers to the rest of the city.
Source: JLL Research