Hanoi Office Market 1Q2022
Rental price increases slightly
New Grade B supply recorded in CBD area
Hanoi Office market recorded a new Grade B office supply from BRG Tower in Hoan Kiem District with an NLA of 5,580 sqm. There was no Grade A new supply recorded in 1Q22. The recently launched development by BRG Group brought the total supply of Grade A & B Office in Hanoi to about 2.3 million sqm.
Demand remained challenged
The Hanoi Grade A & B office market recorded positive net absorption of about 1,169 sqm in 1Q22, mainly thanks to leasing large transactions in some Grade A buildings. In general, most buildings witnessed a negative net absorption or only saw small to medium-sized new leases (250-400 sqm each).
Considering businesses are still suffering from the lingering effects of Covid and high level of new cases in Hanoi, many tenants decided to apply work from home policy and put their leasing demand on hold, bringing the occupancy rate of Grade B office down by 0.2% q-o-q. Most new inquiries are for Grade B buildings in the non-CBD area due to their affordable rents. Technology and real estate were the main demand drivers of the Hanoi Grade A & B office this quarter.
Rental price increases slightly
Overall, the asking rent has slightly increased in both segments. In 2022, as businesses have returned to normal operations, some Grade A buildings have increased their rental prices to the pre-lockdown level. In 1Q22, the rental price for the Grade A office was USD 26.8/sqm/month (*), up 0.1% q-o-q. With the high asking price of the new Grade B offices in BRG Tower, the Grade B segment also witnessed a slight increase in the rental price, at 0.9% q-o-q, reaching USD 14.9/sqm/month.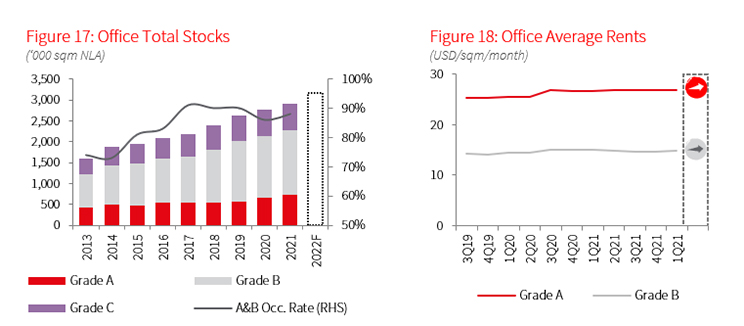 Outlook: New Grade A supply to enter the market in 2022
Based on the construction progress, the Hanoi office market will welcome 42,247 sqm from two Grade A projects and 141,546 sqm from five Grade B projects in 2022. These new supplies with high-quality facilities and high expected asking price will push the average rental price in 2022. However, with sizeable vacant space from the new supply, the vacancy rate should increase temporarily.
Tenants who have resilient business growth, such as technology, e-commerce, and real estate, will likely continue to be the demand drivers of the market.
Note:
Rents refer to average net rent of the Grade A and B office markets, excluding VAT and service charges.


CBD area consists of Hoan Kiem (core CBD), Dong Da, Ba Dinh and Hai Ba Trung. Non-CBD area refers to the rest of the city.
Source: JLL Research
(*) Techno Park Tower will be excluded from Grade A performance basket due to its specific location and targeted tenants.