HCMC Retail Market 2Q2022
The occupancy rate of Prime malls improved
Thanks to the recovery of the economy post-pandemic, the overall occupancy rate increased 50bps q-o-q, reaching 96.2% in 2Q22. Many shopping malls reported significant sales growth. Tenants continuously established new leasing agreements with landlords in the face of the scarcity of available space, with only around 20,000 sqm available in the city's 13 Prime malls.

Demand continued to pick up after more than a quarter of border reopening
Positive net occupancy rates of retail space in Prime shopping malls indicated increased leasing activity in the retail market. Tenants in the F&B industry continued to drive demand in 2Q22.
Numerous major domestic and international tenants with strong finances were expanding their businesses. Uniqlo has continuously established new contracts with retail malls that will be opened in 2022-23. Furthermore, two new local retailers, BRG Retail and Nova Commerce, have recently been continuously expanding their retail chains, demonstrating their positive outlook on this market and ambitions to expand in this potential field.
Rents recovered to pre-pandemic levels
Net effective rent in Prime malls recovered to pre-pandemic levels in 2Q22, reaching USD 41.7 /sqm/month, an increase of 12.2% y-o-y and 0.6% q-o-q. The high y-o-y growth in rent is mostly attributable to the low net effective rent in 2Q21 (USD 37.1 /sqm/month) as a result of the rental concessions policy implemented during the second social distancing period in HCMC from June to September 2021.
The quarterly rise, albeit minor, in rentals indicates a rebound in demand after the pandemic, especially during the short-term period of a supply deficit, as many planned malls are behind schedule, hence raising competition for available space in high-quality malls.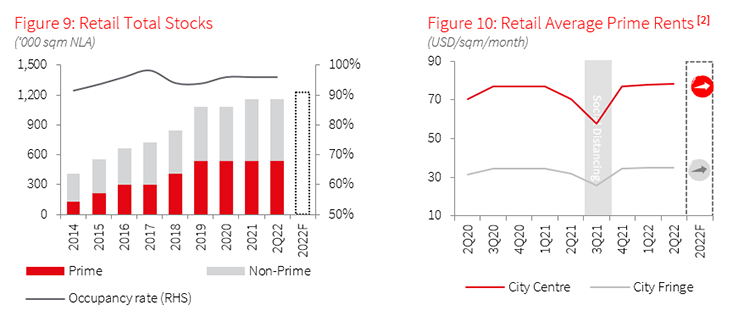 Outlooks: New malls to open by the end of 2022
A recovery in rental momentum will drive new mall openings in 2022, with the most high-profile project, Thisco Mall in District 2 (formerly named Socar Mall), having its official opening after several delays due to the impact of the pandemic. Besides, the Union Square Mall is undergoing renovation and is expected to reopen its B1 floor by the end of 2022.
New large-scale shopping malls with extensive investment and high-profile tenants will contribute to a rapid increase in the average rent in 2022, as they expect that retail market to recover even stronger than pre-pandemic levels.
Note:
[1] Prime rents refer to average net effective rent of Prime Mall across the city, excluding VAT and service charges. Please refer to terminology for definition of Prime Malls
[2] City Centre refers to District 1. City Fringe refers to the rest of the city.
Source: JLL Research
NOTES:
As the market develops, we regularly review and update our classification and grading system as well as the methodology to ensure the relevance and focus of our research on the actual market situation.
Since 1Q21, in this report:
Supply indicators to cover malls classified as Community Centre, Regional Shopping Centres and Super Regional Centre.
Performance indicators to cover prime retail properties only (a subset of supply basket above). This is one of the most highly sought-after property types on the market.
Subsequently, this revision might result in some changes in the historical data.
Please refer to the Terminology for detailed definitions of all the new terms mentioned above